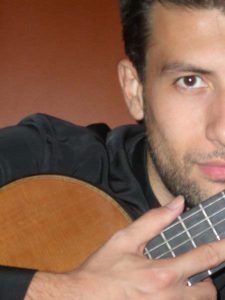 Andreas Moutsioulis is a Greek-born guitarist and arranger, with performing experience in Europe and America. His compelling stage presence, together with his exceptional musical sensitivity, places him among the most gifted players of his generation.
Born in Thessaloniki, Greece in 1981, Andreas started his classical guitar studies at the age of seven, under the tuition of Anastasios Amiridis. At the age of only sixteen, he was invited to join an orchestra as a soloist. Having been awarded a distinction in his guitar diploma at the Conservatory of Thessaloniki in 2002, he went on to obtain both Bachelor and Master's degrees in Music from the Ionian University of Greece and a postgraduate qualification from the Mozarteum in Salzburg.
Andreas has studied with or attended the masterclasses of many distinguished guitarists, such as John Williams, Leo Brouwer, Manuel Barrueco, Eliot Fisk, David Russell, Costas Cotsiolis, Ricardo Gallen, Marco Tamayo and Jorge Morel.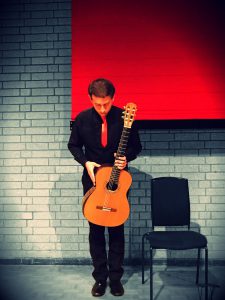 He has won several national and international competitions, has been invited as a soloist at many festivals, has performed as a soloist guitar player and has accompanied chamber music and orchestras. He has given concerts in prestigious halls such as the Athens Concert Hall "Megaron", St. Martin-in-the-Fields, London, Royal Northern College of Music (RNCM), Manchester and the Holywell Room,Oxford, and has been interviewed by and performed on BBC Radio 3 and the Greek National Radio. One of Andreas' career highlights came in October 2009 when he played in Athens Concert Hall with the Athens Camerata String Orchestra in front of HRH Princess Irene of Spain.
His love for the guitar and his wish to present new musical experiences to his audiences caused him to look for ways to broaden its repertoire and help the instrument to develop. Since 2008 he has made his own transcriptions for the guitar of works by composers of the wider musical repertoire. His arrangements include works for solo guitar as well as for ensembles.
Andreas is an independent recording artist and music producer. He has released two CD albums of music for solo guitar. Both albums contain music of different styles and cultures, brought together as a unity. At present he is working on his next album which will include his compositions.
Together with performing, Andreas devotes time to teaching. Living in Bristol UK at present, he teaches a number of promising students. Being a fan of technology, he also teaches students all around the world through Skype.
Andreas is a qualified teacher (QTS) and a member of the Incorporated Society of Musicians (ISM).